Coming Soon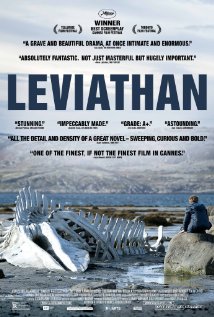 In a Russian coastal town, Kolya is forced to fight the corrupt mayor when he is told that his house will be demolished. He recruits a lawyer friend to help, but the man's arrival brings further misfortune for Kolya and his family.
Director:   Andrey Zvyagintsev
Writers:  Oleg Negin, Andrey Zvyagintsev
Stars: Aleksey Serebryakov, Elena Lyadova, Roman Madyanov
Rating:  14A
Screening:  Monday, April 13.
Tickets will be on Sale March 3 at the Aurora Public Library.
Film Circuit Supports Aurora Public Library
On November the 3rd the Aurora Film Circuit presented another cheque for $5,000 to the Aurora Public Library. This brings the total donations to the library to $38,500 since AFC's inception seven years ago. Matt Maddocks, Board Chair of the library was there to receive the donation and provided the group with a quick update on what the Library will use the funds for: "The Library will use the funds for special initiatives, including the building of its DVD collection, which now includes copies of most films shown by AFC".
Read more