Coming Soon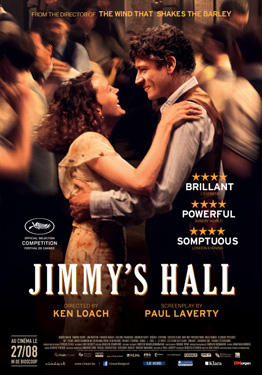 1932. Jimmy Gralton is back home in the Irish countryside after ten years of forced exile in the USA. His widowed mother Alice is happy, Jimmy's friends are happy, all the young people who enjoy dancing and singing are happy. Which is not the case of Father Sheridan, the local priest, nor of the village squire, nor of Dennis O'Keefe, the chief of the fascists. The reason is simple: Jimmy is a socialist activist. So when the "intruder" reopens the village hall, thus enabling the villagers to gather to sing, dance, paint, study or box, they take a dim view of the whole thing. People who think and unite are difficult to manipulate, aren't they? From that moment on they will use every means possible to get rid of Jimmy and his "dangerous" hall.
Screening Date: Monday, October 5, 2015
Rating: PG13
Film Circuit Supports Aurora Public Library
On November the 3rd the Aurora Film Circuit presented another cheque for $5,000 to the Aurora Public Library. This brings the total donations to the library to $38,500 since AFC's inception seven years ago. Matt Maddocks, Board Chair of the library was there to receive the donation and provided the group with a quick update on what the Library will use the funds for: "The Library will use the funds for special initiatives, including the building of its DVD collection, which now includes copies of most films shown by AFC".
Read more