Coming Soon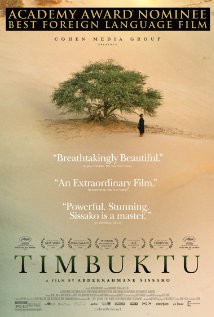 2015 Academy Award Nominee for Best Foreign Language Film! Not far from Timbuktu, now ruled by the religious fundamentalists, Kidane lives peacefully in the dunes with his wife Satima, his daughter Toya, and Issan, their twelve-year-old shepherd. In town, the people suffer, powerless, from the regime of terror imposed by the Jihadists determined to control their faith.
Director:   Abderahmane Sissako
Writers:  Abderrahmane Sissako(screenplay), Kessen Tall(screenplay)
Stars: Ibrahim Ahmed, Abel Jafri, Toulou Kiki
Screening:  Monday, May 4.
Tickets will be on Sale April 14 at the Aurora Public Library.
Film Circuit Supports Aurora Public Library
On November the 3rd the Aurora Film Circuit presented another cheque for $5,000 to the Aurora Public Library. This brings the total donations to the library to $38,500 since AFC's inception seven years ago. Matt Maddocks, Board Chair of the library was there to receive the donation and provided the group with a quick update on what the Library will use the funds for: "The Library will use the funds for special initiatives, including the building of its DVD collection, which now includes copies of most films shown by AFC".
Read more